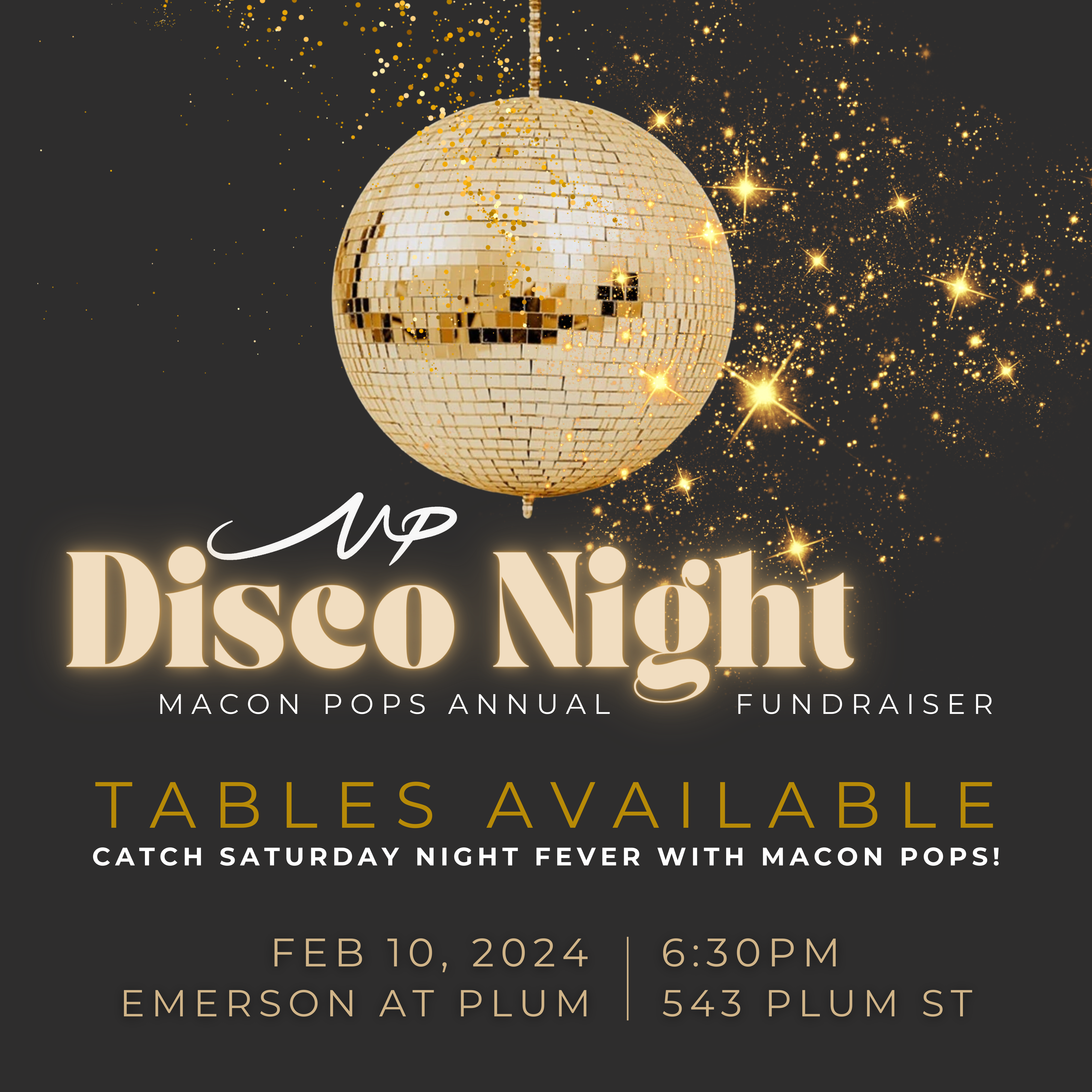 February 10, 2024 | 6:30 pm
Macon Pops Annual Fundraiser: Disco Night
Emerson at Plum
Save the date and get ready to boogie the night away at the most dazzling event of the new year! 🌟🕺Join us February 10, 2024, at 6:30 PM at the fabulous Emerson at Plum for a night that promises to be nothing short of spectacular! This year, we're turning up the disco fever with Macon Pops! It's time to dust off those bell-bottoms, glitter up those platforms, and let your inner dancing queen (or king) shine! Get ready for an unforgettable night of dancing, laughter, and good vibes. Our annual fundraising event is not just a party; it's a celebration of community, generosity, and making a positive impact.
Expect a night filled with groovy Macon Pops tunes, dazzling lights, and a dance floor that won't stop until the last note plays. Whether you're a disco diva or a dancefloor novice, this event is for everyone! And here's the best part – every spin, twirl, and funky move on the dance floor contributes to a cause close to our hearts, Macon Pops and the future of Macon music! Together, we'll raise funds that will create a lasting impact in our community. So mark your calendars, and let's make this disco night one for the books! Your support means the world to us, and we can't wait to see you light up the dance floor.
Tickets on Sale Soon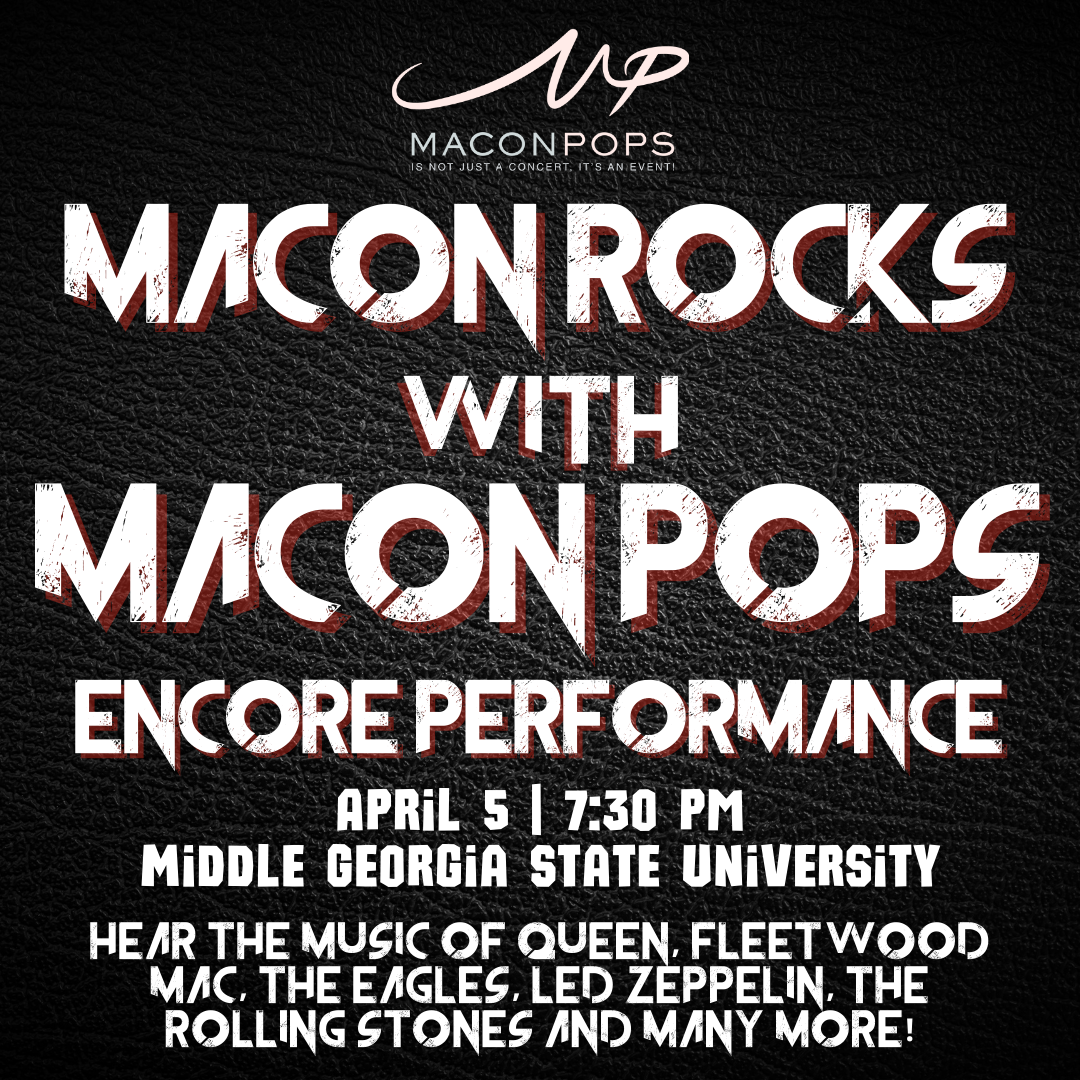 April 5, 2024 | 7:30 pm
Macon Rocks with Macon Pops
Middle Georgia State University
Get ready to rock out on April 5 at 7:30pm at Middle Georgia State University! Join us for an encore presentation as Macon Pops performs the best hits from legendary classic rock bands. Sing along, reminisce, and let the music transport you to the golden era of rock 'n' roll!
This show will take place outside, so make sure you pack all the essentials: lawn chairs or a picnic blanket, your cooler, and be ready to dance!
Tickets on Sale Soon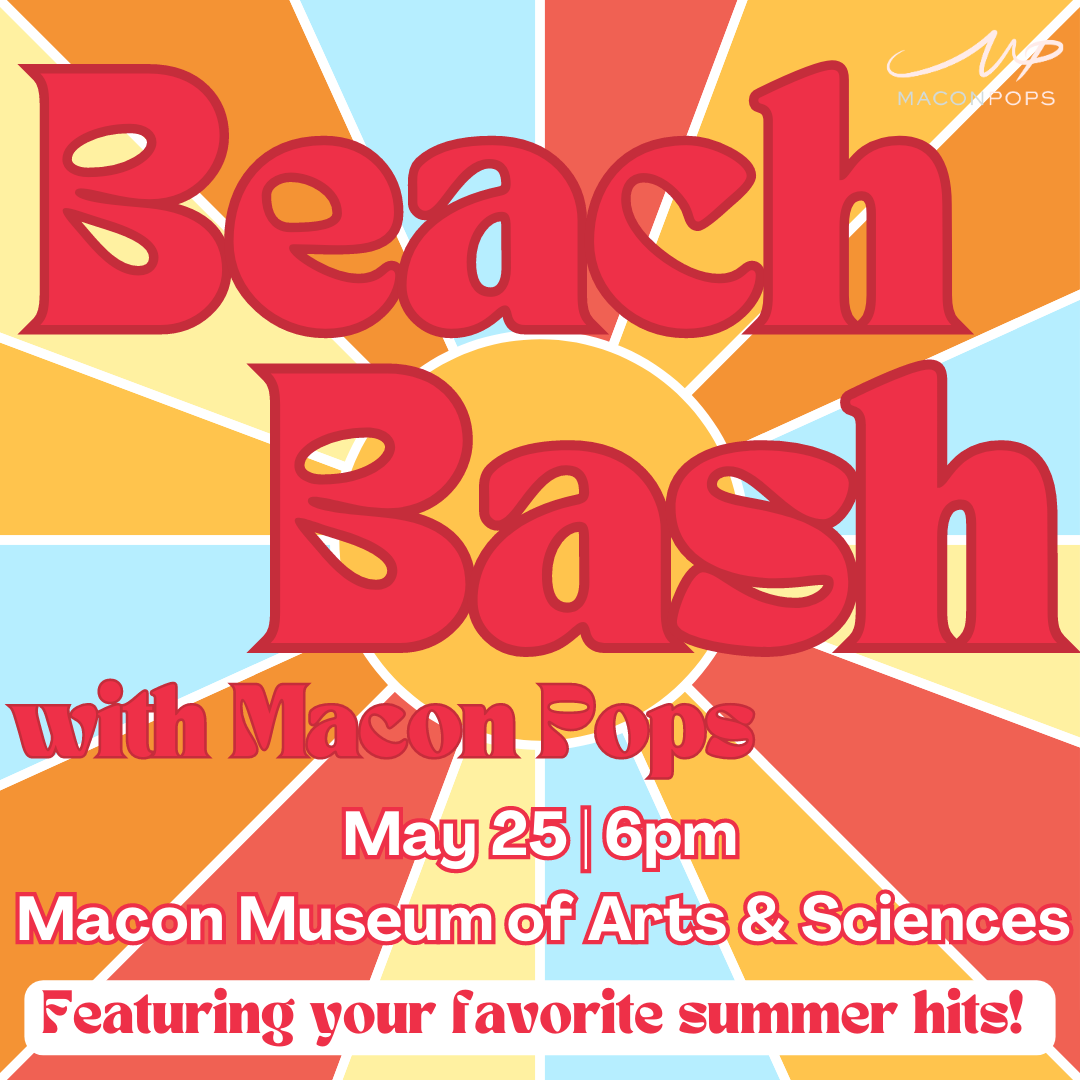 May 25, 2024 | 6:00 pm
Beach Bash with Macon Pops
Macon Museum of Arts & Sciences
Say goodbye to spring and welcome summer on May 25 at 6pm at the Macon Museum of Arts & Sciences Amphitheater. Join us for a Beach Bash filled with tropical vibes, lively music, and summer fun. Let the sounds of Macon Pops whisk you away to a beach paradise. Get ready to dance and enjoy the ultimate summer celebration!
This show is a guaranteed great way to spend your Memorial Day weekend. Bring your lawn chairs and you'll be able to purchase food and drinks from on-site vendors to make the show even more enjoyable.
Tickets on Sale Soon