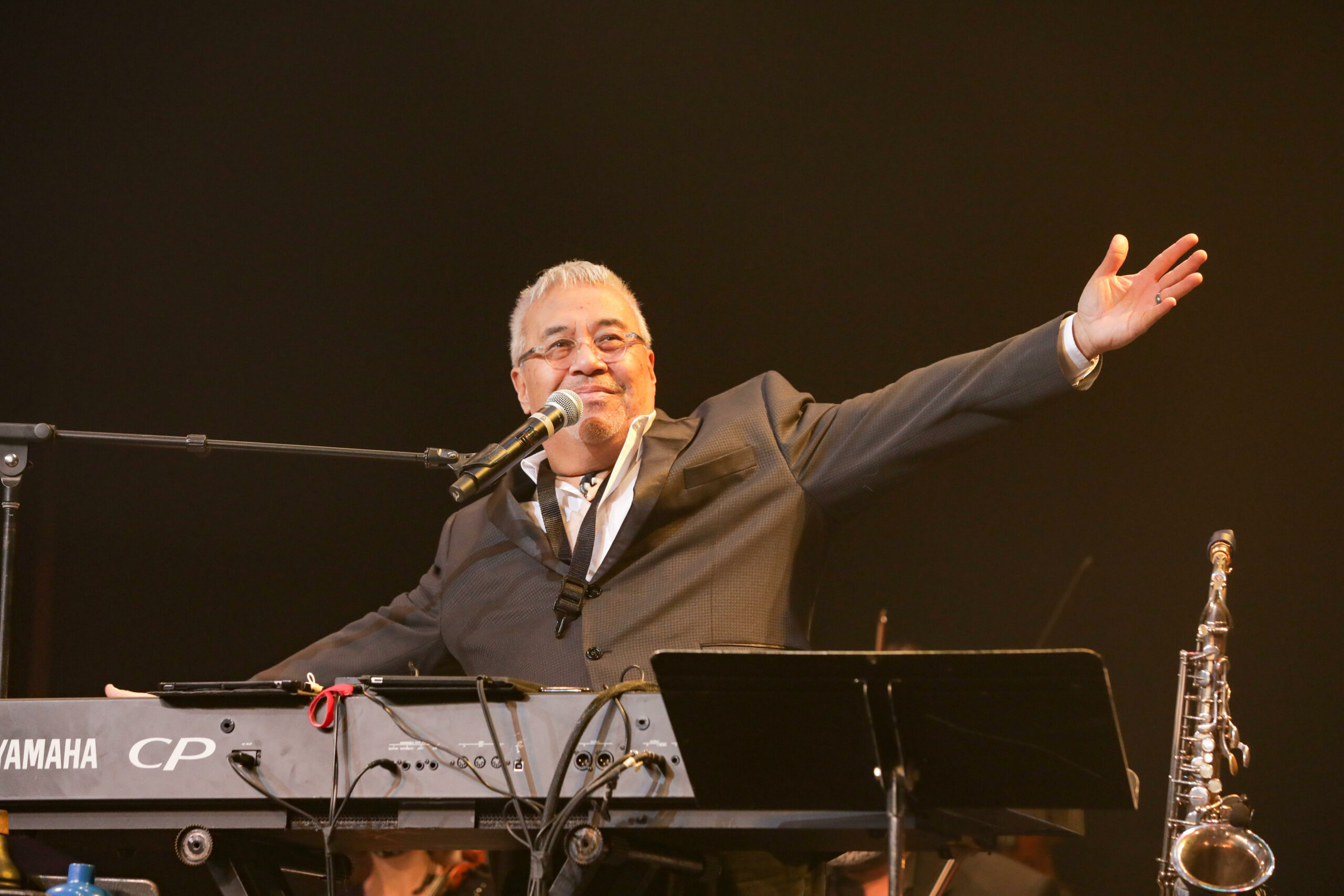 Introducing Matt Catingub: Macon Pops Co-Founder and Artistic Director
Matt Catingub is a multi-talented artist who has made an indelible mark on the music industry as an award-winning jazz performer, saxophonist, vocalist, pianist, arranger, composer, and renowned orchestra Pops conductor. As the Artistic Director and Co-Founder of Macon Pops, Matt has been instrumental in creating a dynamic and innovative musical experience.
Born into a musical family, Matt is the son of the legendary jazz vocalist Mavis Rivers, known as "Polynesia's First Lady of Song." With his proud Pacific Islander heritage, Matt was honored with the Samoan Chief's title of La'auli by King Malietoa Tanumafili II. His musical journey began at the age of 17 when he performed and presented his original big band compositions at the Monterey Jazz Festival. This led to an opportunity to tour Japan, playing alongside jazz legends Dizzy Gillespie, Thad Jones, and Ruth Brown.
Matt's early years were marked by global travels and performances alongside his famous mother, including a memorable performance at the 1983 Royal Variety Performance for Queen Elizabeth and Prince Philip. At a young age, Matt joined the big bands of Louie Bellson and Toshiko Akiyoshi as the featured lead alto saxophonist. By age 21, he formed the Matt Catingub Big Band, featuring his mother as a vocalist, and recorded critically acclaimed albums. Notably, his innovative One-Man-Big-Band recording called Hi-Tech Big Band showcased Matt's exceptional skills by playing all the instruments, including drums and the cutting-edge Yamaha DX7 synthesizer.
Throughout the 90s, Matt expanded his talents to keyboards and conducting, becoming a sought-after music director for legendary artists such as Jack Jones, Toni Tennille, The Captain & Tennille, and Maureen McGovern. His vast experience eventually propelled him into the world of Pops orchestra.
In 1995, Matt made his solo singing debut at the Frank Sinatra Celebration at Carnegie Hall, sharing the stage with Linda Ronstadt. He then signed with Concord Records and released several CDs, including his highly successful big band project, Big Kahuna And The Copa Cat Pack. The band, known for its high-energy neo-swing, toured globally and left an indelible mark on the jazz scene. It was during this time that Matt's musical partnership with drummer Steve Moretti solidified.
Matt's orchestral Pops journey began in 1998 when he was appointed as the Principal Pops Conductor for the Honolulu Symphony. With his artistic vision, Matt curated a remarkable season, inviting renowned artists such as Kenny Loggins, James Ingram, Boz Scaggs, Rosemary Clooney, and many others to perform with the orchestra. His innovative arrangements and orchestrations elevated the Honolulu Symphony's Pops program to unprecedented heights.
Since then, Matt has conducted major symphony orchestras across the United States, including Nashville, Atlanta, Houston, St. Louis, Buffalo, and more. He has collaborated with diverse artists such as Diana Krall, Yes, Al Jarreau, Gladys Knight, Kenny Rogers, and Elvis Costello, among others. Matt has also served as the Principal Pops Conductor for the New Mexico Symphony and The New Hampshire Music Festival.
Matt's latest project, "From Samoa to Sinatra," pays tribute to the musical legacies of both Frank Sinatra and his mother, Mavis Rivers. As he continues to explore new musical avenues, Matt's passion for jazz and contemporary music, combined with his adventurous spirit, keeps him at the forefront of the industry.